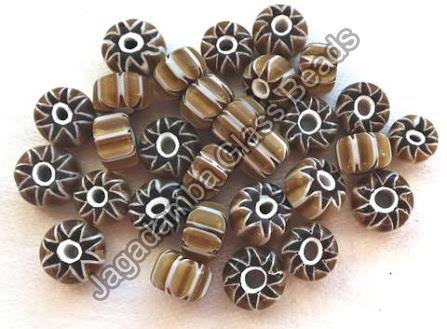 A bead is a tiny ornamental object used to make necklaces, bracelets, and a variety of beautiful gowns/ clothing. They come in a variety of sizes and have been used as jewellery on the human body for thousands of years. The aesthetic appeal of beads has made them highly popular across different cultures as well as the fashion world.

Beads are utilized as clothing embellishments, which increases the visual appeal and worth of the garment or object. Beads are increasingly being used to decorate home decorations and art that individuals produce. There are numerous types and designs in which beads are available. Such as chevron beads, crystal beads, glass bongs or plain beads, etc. The exporters of Chevron beads have seen a massive hike in demand for this category of beads.

What are Chevron Beads?
Chevron beads are a kind of glass bead that is also known as Rosetta beads or star beads. This lovely bead has a white center with 4 to 7 layers. The exporters of Chevron beads in India use a glass drawing method that allowed the artist to add color layers (most often blue, red, and white). Once the layers were finished, the artist would cut the long cane into smaller pieces and grind away the edges to create a magnificent star-shaped pattern on either end. These smaller pieces were properly molded into beads. The Chevron Beads have great historical importance since they are used for centuries.

Making of Chevron Beads
The Chevron beads exporters in Uttar Pradesh use a specific method for the production of these lovely beads.
Chevron beads can be made up of a variety of different layers of colored glass. The first core is made from a molten glass ball called a gather that is heated in a furnace. While making beads, an air bubble is blown into the center of the gather with a blowpipe, creating a space for the perforation of the future bead. The gather is then poured into a star-shaped mold.

Several layers of glass can be applied, returning to the mold as needed to achieve a star-shaped or smooth appearance for each layer. After all, layers are placed, metal plates are connected to the still-hot glass, which is stretched out into a long rod known as a cane by tugging from both ends in opposing directions. The cooled glass cane is sliced into small segments that display a star pattern. The exporters of Chevron beads thus produce large quantities of beads.

Why Use Chevron Beads?
The Chevron Beads exporters from India earn huge profits by supplying these beads worldwide. Chevron beads are quite popular right now. This is from those who respect the history behind them as well as collectors, as they rise in value by around 10% every year. Chevron trade beads exist in a variety of forms and colors, but they are all the same in size, style, and decorating method.

Chevron beads are purchased to be used as clothing accessories. Chevron beads blend nicely with most outfits and may be used in both casual and formal situations. Furthermore, purchasing Chevron beads is less expensive than purchasing other jewels like diamonds and gold, while still maintaining your style.

The exporters of Chevron Beads in Uttar Pradesh provide these beads at an affordable rating of Rs. 1,500 per kg having rich aesthetic values.
This entry was posted on August, 18, 2021 at 14 : 22 pm and is filed under Chevron Beads. You can follow any responses to this entry through the RSS 2.0 feed. You can leave a response from your own site.